Neighbourhood Plan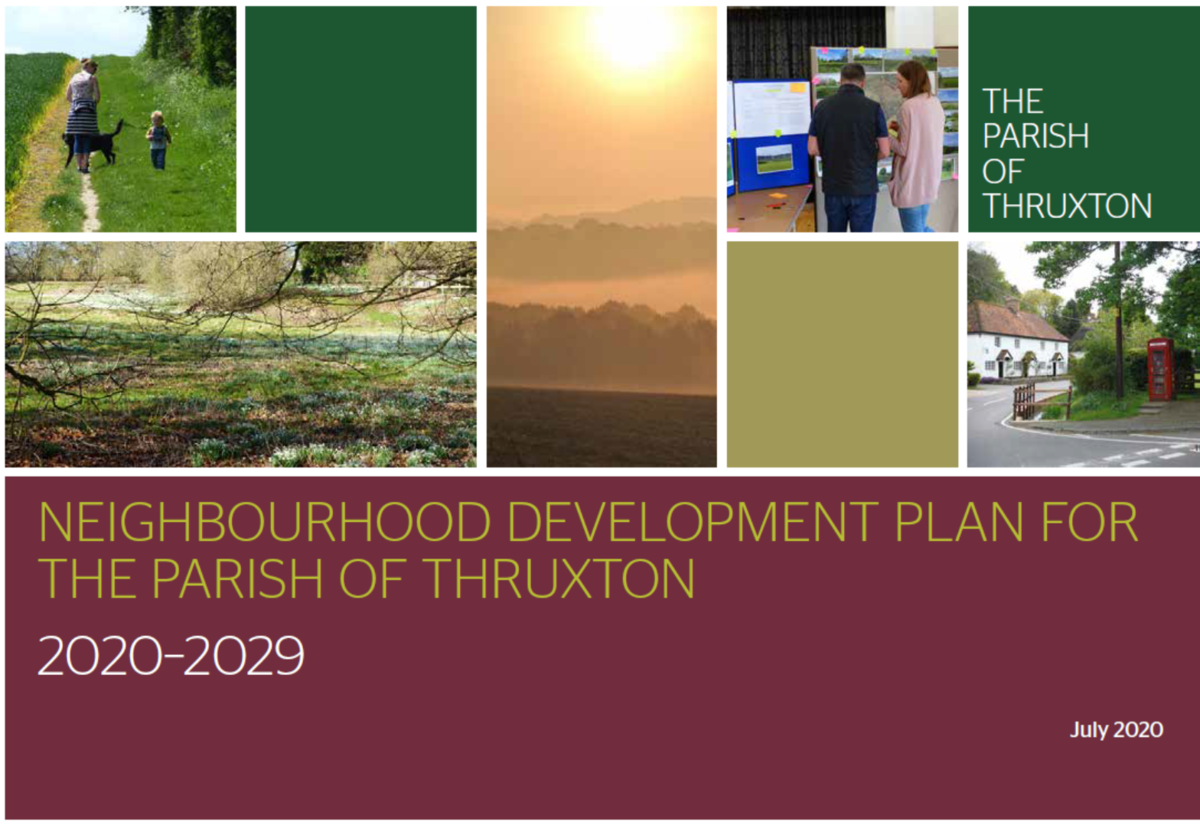 THRUXTON PARISH NDP UPDATE
FEBRUARY 2021 UPDATE
In May 2020 the Thruxton Parish Neighbourhood Development Plan (NDP) reached the stage where it was ready to go to a Referendum of the Parish for approval to use it in considering Parish planning matters. That Referendum was cancelled as a result of the Covid virus. A new date, 6th May 2021, has now been set to hold the Referendum. TVBC will organise and manage the Referendum that will take place at the same time as Police Crime Commissioner and local elections on the 6th May 2021.
Provided the NDP receives a positive response it will finally be "Made". That is it becomes a legal document that must to be taken into account by those involved in the process when considering planning applications. After five years of striving to represent your views and needs in the NDP it would be very disappointing to see that efforts wasted. So please turn out and vote on the 6th May 2021
TVBC will make copies of the NDP available for your scrutiny in hard copy. They have yet to confirm details of how they will achieve this. A soft copy is available to view on their website at:
https://www.testvalley.gov.uk/planning-and-building/planningpolicy/neighbourhood-planning/thruxton-neighbourhood-plan
The NDP is also available to access below
The Parish Council will also hold a number of hard copies of the NDP which will be available to borrow. Contact the Parish Council through the "Contact" tab in this website.
What is a Neighbourhood Plan?
​
A Neighbourhood Plan is a new way for local people to influence the planning and development of the area in which they live and work. After a public meetings and a very helpful talk from an officer from TVBC (also well attended) the Parish Council determined that a neighbourhood Plan would be appropriate for the Parish …not just Thruxton Village. Ours will cover the next 15 years to align with TVBC's Local Plan.
A neighbourhood plan
Should develop a shared vision for a settlement, village or town
Can choose where new homes, shops, offices and other development should be built.
Will influence how much housing should be built, and of what type.
Can identify and protect important local green spaces or other treasured assets.
Once approved, our plan will have legal force in setting out what development is acceptable in our Parish and for what reasons. Developers and local authority planners will have to take notice of it. Without a Neighbourhood Plan, we will have little control over any development that takes place and will receive less community funds from any development that does take place.
We can influence development, not stop it altogether.
You have seen the news. You know that there is a housing shortage in the South of England and that the government requires development to take place. This means that some new housing may be built in the Parish in the future. TVBC has established that there is need for 648 new houses to be built in "Rural Northern Test Valley" by 2029 – we are part of that area. Our Neighbourhood Plan must comply with Test Valley Borough Council's (TVBC) Local Plan and the government's wider policy of sustainable development.
Having a Neighbourhood Plan in place will help us ensure that any new housing/development is suitable for the Parish and meets the needs of our area. It will also help us to identify the facilities and services that need to be in place to meet the demands that any new housing will make upon our community. We are able to say where any new development should go, but that may be for a later time.
The Neighbourhood Plan will take time to prepare and parishioners will be consulted at points throughout the process. The final draft of the plan is examined by an independent inspector and a referendum has to be held on whether to adopt the final plan that is prepared.
We are a small Parish and may be quicker than many, but it can still take some time.
What is really important is that we all get involved. Please do read about what is happening in the Thruxton Times and on the website, attend any presentations in the hall and please do vote when the time comes. Please also respect other people's opinions - we know that these can be divisive issues and there will be a range of opinions.

This website page will be kept up to date so that you know what is happening.